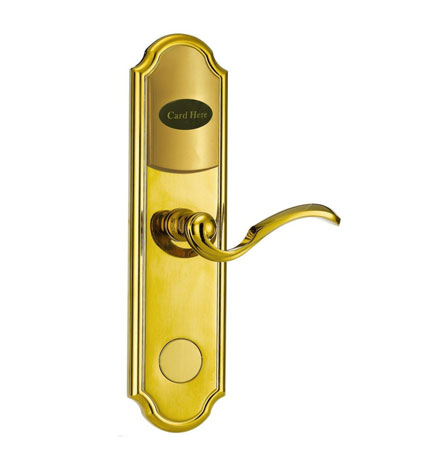 ET301RF-G
Specification
1.Induction operating frequency: 125 KHz or 13.56MHz
2.Applicable card: T5557,EM4305 Card ,M1 Card,
3.Voltage: four sections of 1.5V alkaline batteries
4.Alarm Voltage: <4.8 V
5.Static power consumption: <10 microamps
6.Dynamic power consumption: <200 microamps
7.Temperature: -20 °C to 50 °C
8.Humidity: <95 °C
9.Antistatic:> 15.000 V, it still ensures the information not lost and stable work under the condition of strong static interference
10. Gold/Silver Color
Hotel Lock System Advantages:
1. FREE English software, smart software system efficiently manage whole hotel
2. FREE sample, over 1000pcs !
3. Anti- rust and anti-corrosion(Stainless steel/Zina alloy/Brass material optional)
4. Famous brand chips--Atmel or Philips,sufficiently stable, lock can use for 20 years
5. ANSI standard 5 latches lock body ensure security, anti-strike
6. Data collector can download lock records, eg. when,who use which key open lock
8. 4pcs AA batteries can use about 10-12 months
9. Working clock is setted inside locks to control the effective time limit of card keys. eg. if set check out time 11:00AM, pass 11:00AM, guest card can not open door lock
10.Two unlock ways: RFID card or mechanical key (Master mechanical key optional)
System Composition:
1.Lock (qty = guest room)---installed in doors
2.Encoder (qty=1-2pcs/hotel ) ---For issuing/ program all cards to be unlock key
3.Energy-saving Switch (qty = guest room)---To control power,saving power.
4.Cards (qty = 3-5 times of guest room)-----be programmed to be the key by encoder
5.Data collector (1pc/hotel, Optional)---Download unlock records(Who/When open) from lock
6.Self developed software,English language(free)----For control and management the whole system.
(For other language sofware, you can translate it to be your language)